Why Epionce Daily Shield Tinted SPF 50 is Our Best-Selling Sunscreen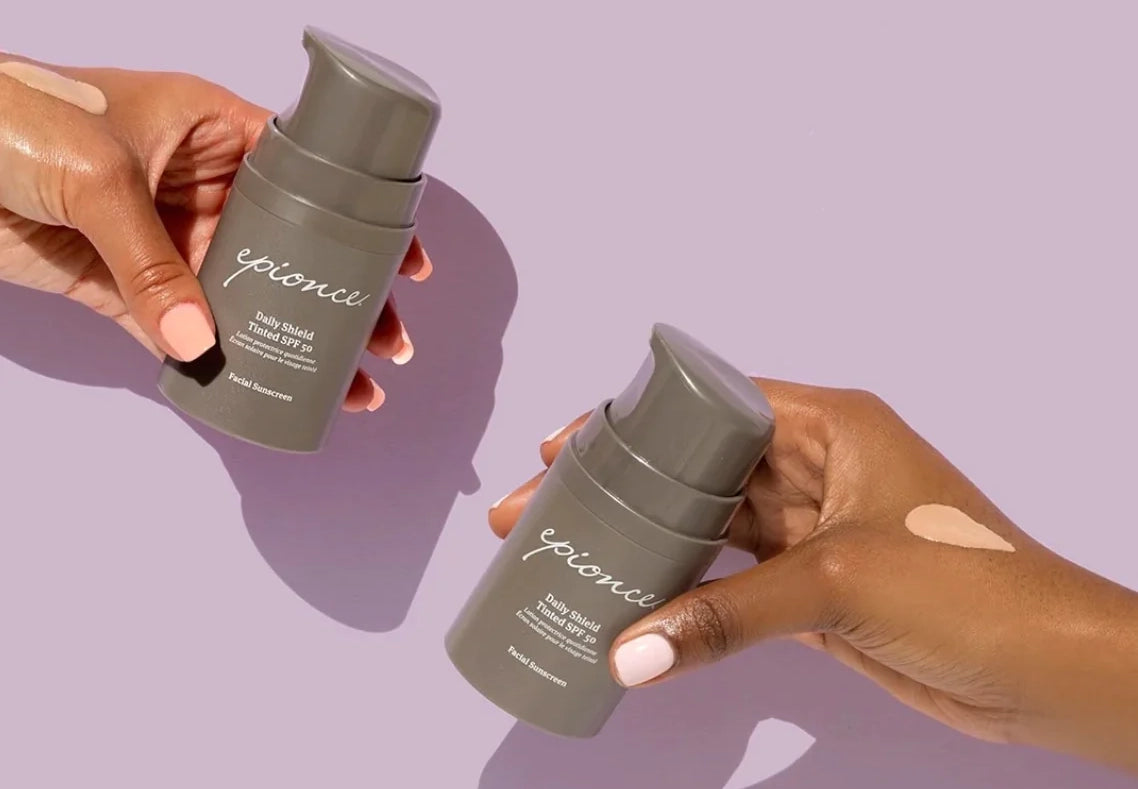 When it comes to skincare, there's no denying that protecting your skin from the sun is one of the most important steps you can take. However, one of the most common complaints about wearing SPF every day is that it can feel heavy on skin, or makes it more challenging to apply makeup over top. That's why Epionce Daily Shield Tinted SPF 50 Sunscreen is a must-have for anyone looking for serious skin protection without sacrificing wearability! Let's dive into some of the features that make this product such an award-winning skincare essential.
Award-Winning Protection
Epionce Daily Shield Tinted SPF 50 Sunscreen has been recognized with multiple awards for its advanced, yet gentle formula. Its lightweight and hydrating texture is designed to keep skin looking and feeling healthy while providing superior sun protection, making it an ideal choice for all skin types. It provides broad spectrum UVA/UVB protection, plus antioxidants and additional barrier support to help combat environmental factors like pollution. The best thing? This sunscreen won't leave behind any residue, making it perfect for layering under your favorite makeup products.
Flawless Finish
Providing sheer protection isn't the only benefit of Epionce Daily Shield Tinted SPF 50 Sunscreen – the one-size-fits-most tint has just the right amount of color to let skin bare while also blurring imperfections! The medium-toned shade is ideal for most skin types and tones and is able to blend flawlessly into the skin. This makes it perfect for daily use alone, in place of a tinted moisturizer with SPF, or under makeup as a base with optimum UV protection!
Mineral-Based Sunscreen for Sensitivity
If your skin tends to be on the reactive or sensitive side, mineral sunscreens are often preferable to chemical sunscreens because they are more gentle less likely to irritate sensitive skin. Epionce Daily Shield Tinted SPF 50 Sunscreen contains Zinc Oxide and Titanium Dioxide, two of the most effective mineral UV blockers on the market. Mineral sunscreens protect against both UVA and UVB rays, while some chemical sunscreens only protect against UVB rays; this means that mineral sunscreens can better protect against premature aging caused by sunlight exposure.
The Epionce Difference
Epionce has been creating botanically-based medical skincare products since 2004, when Dr. Carl Thornfeldt developed the brand based on his research on inflammation in the skin caused by environmental stressors like pollution and ultraviolet radiation from the sun's rays. His goal was to develop formulas with active ingredients specifically designed to target inflammation at its source—not just mask symptoms—and improve how our skin responds to stressors in order to achieve healthier and more beautiful age-defying results over time.      
Conclusion
Whether you have dry, oily, combination or normal skin, Epionce Daily Shield Tinted SPF 50 Sunscreen is a great option for optimal sun protection without compromising wearability. This award-winning sunscreen contains mineral blockers that create an impenetrable shield against UV rays while also providing additional barrier support to help protect against environmental stressors like pollution which can contribute to premature aging of the skin over time. Plus, it won't leave behind any residue so you don't have to worry about it clogging up your pores! All in all, Epionce Daily Shield Tinted SPF 50 Sunscreen is a must-have addition to your daytime skincare regimen!