Hydrate and Shine: What You Need to Know About Hyaluronic Acid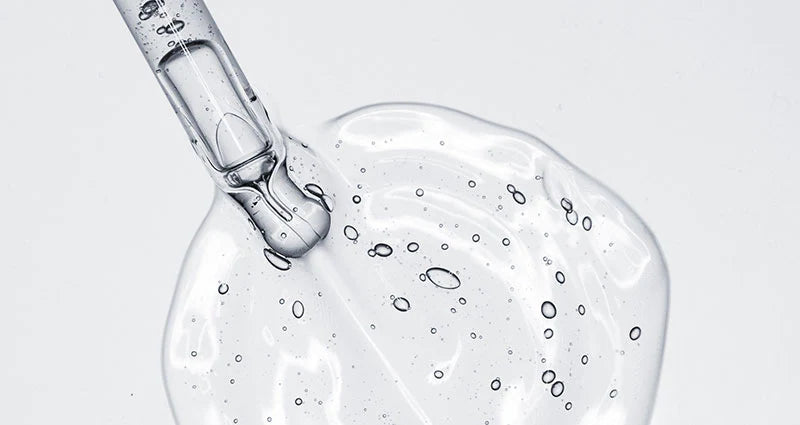 Hyaluronic acid is everywhere these days – on Sephora shelves, viral TikToks, Allure articles, being touted as a "wonder moisturizer" and "an alternative to fillers." It's practically taken over the beauty market in a variety of products, from serums and moisturizers to sheet masks, night creams, and lip products. But what exactly is this magic ingredient everyone is raving about? Where does it come from? Most importantly, how do we separate the substance from the hype? Let's take a deeper look at what hyaluronic acid is, how it works, and the best way to incorporate it into your skincare routine.
What Is Hyaluronic Acid?
Hyaluronic acid is a natural substance found in the body, but it can also made in a lab through a process known as biofermentation. It is incredibly beneficial for your skin, providing hydration and moisture while helping to reduce wrinkles. Hyaluronic acid (also known as HA) is a glycosaminoglycan, meaning that it's composed of sugars and proteins. In the skin, hyaluronic acid's primary function is to retain moisture and provide lubrication. It has an incredibly high capacity for water retention—up to 1,000 times its weight! As we age, our bodies produce less HA which leads to dryness and wrinkles, making it important to apply topical applications of hyaluronic acid to the skin.
Where Does Hyaluronic Acid Come From?
Hyaluronic acid can be derived from several sources including bacteria cultures or extracted from rooster combs. However, most topically applied HA products are synthetic versions made from plant-based sources like yeast or wheat bacteria. Whatever the source, all forms are safe for use on the skin as long as they are properly formulated at the right concentration levels. Topical hyaluronic acid has many positive attributes: it works well for all skin types, it does not cause allergic reactions or irritate sensitive skin, and is safe to use on the skin during pregnancy and while breastfeeding.   
What Does Hyaluronic Acid Do?
When applied topically on the skin, hyaluronic acid provides superior hydration by attracting and retaining moisture from the atmosphere around us. This helps keep our skin cells plump which reduces fine lines and wrinkles while improving elasticity and firmness. In addition to its hydrating benefits, HA can also help protect against environmental stressors like sun damage or pollution by forming a barrier on our skin's surface. Look for products with HA molecules of all different sizes: the larger molecules sit on the skin's surface, protecting against water evaporation, where the smaller molecules can penetrate deeper into the skin and lock in moisture there.
How Can I Incorporate Hyaluronic Acid Into My Skincare Routine?
The best way to incorporate hyaluronic acid into your skincare routine is by using a serum or moisturizing cream that contains HA as one of its main ingredients. Depending on your individual needs, you may even want to use both! For oily or combination skin types, an HA serum works best, whereas a richer cream containing high levels of HA is ideal for dry or mature skin. A useful tip: apply hyaluronic acid on slightly damp skin (after cleansing or when you get out of the shower), because it needs moisture in the environment to work in the first place. After applying, follow up with a moisturizer packed with emollients, such as glycerin and ceramides, to lock hydration in, and follow with SPF during the day!
Best Hyaluronic Acid Products for every Skin Type:
Dry Skin - Eve Lom Moisture Cream. This nourishing formula provides the skin with all it needs in one, luxurious, multi-tasking moisture cream. Next generation Hyaluronic Acid helps reduce lines and wrinkles, protects against the effects of pollution.
Mature Skin - Alastin HA (Hyaluronic Acid) IMMERSE Serum. This breakthrough formula that delivers instant hydration for smoother, more radiant-looking skin. Proprietary peptides help the skin's ability to naturally increase its own high-molecular hyaluronic acid production deep within for long-term skin plumping, anti-aging, and hydration benefits
Combination Skin - Cosmedix Skin Thirst Hyaluronic Acid Cream. This oil-free Moisturizing Hyaluronic Acid Cream that acts like a tiny sponge that locks in hydration to help plump the look of skin. The lush, gel-to-velvet formula quickly absorbs into skin, soothes on contact and instantly mattifies on application—the formula feels truly dreamy.
Oily Skin - 111SKIN Hyaluronic Acid Aqua Booster. This oil-free, weightless serum instantly increases moisture levels by delivering a shot of concentrated ultra-hydrating ingredients into skin, plumping the skin and combatting dehydration. Niacinamide helps with balancing oil production and shrinking pores. 
Conclusion
Hyaluronic acid is an amazing ingredient that provides superior hydration for all types of skin—dry/mature, combination/oily—delaying the aging process and restoring moisture and youthfulness! Whether you opt for a serum or moisturizing cream containing HA (or both!), incorporating this powerful ingredient into your skincare routine will help keep your skin looking radiantly healthy with fewer fine lines and wrinkles over time. Get ready to hydrate and shine with hyaluronic acid today!