The Best Facial Sculpting Devices: Purelift Face vs. NuFace Trinity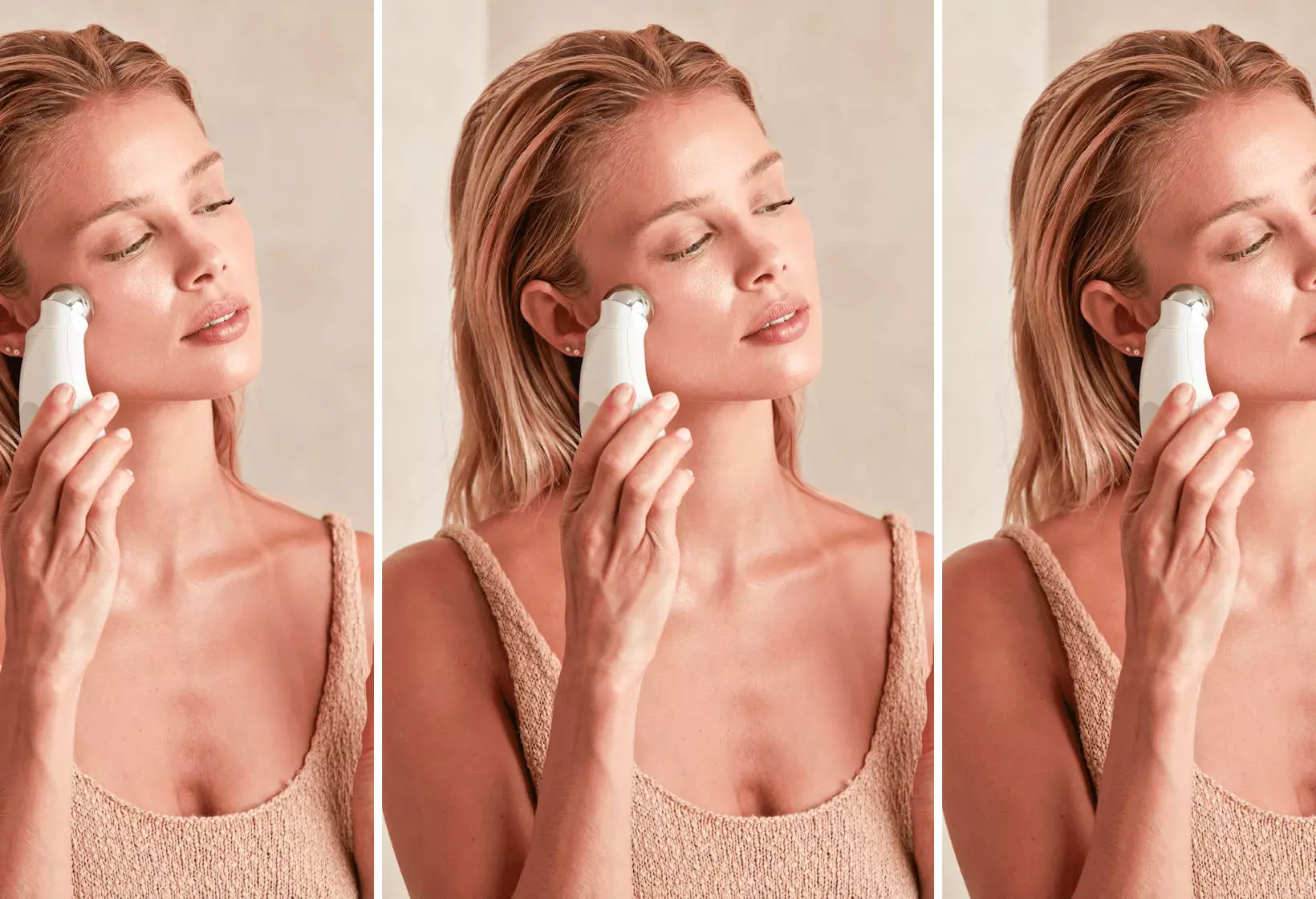 We all love our visits to the esthetician, dermatologist, or med spa - they keep us looking glowing, snatched, and refreshed. Most of us want to maintain those spectacular results, but we can't afford to keep those visits going all the time (we want our faces snatched, not our wallets!) Our secret to keeping our faces tight, lifted, and toned in between treatments? Facial toning devices!
The two top skin toning and stimulating devices on the market are Purelift Face and NuFace Trinity. We carry both, and are excited to compare and contrast those 2 devices so you can figure out which one is best for you, how they can improve your skin, and what each one offers. Read on to discover more!
What Is The Purpose of Facial Sculpting Devices?
Increases Blood Flow to Skin. These premium devices use electrical currents to stimulate the dermis and epidermis, which increase blood flow to the muscles right underneath the skin and to the skin's surface. The vibrations also provide a soothing sensation, which can relax the skin, leading to a reduction in fine lines and wrinkles. 
Strengthening. Facial sculpting tools not only work the skin layers, they also work the muscles underneath as well. By strengthening those muscles, the skin attached to them will also become firmer, and after continuous use, you will begin to see a visible lift. Skin looks less saggy and crepey, jowls are reduced, and the forehead will begin to lift, taking years off your appearance. 
Anti-Aging. With continuous usage, these devices really do work magic in turning back the clock on aging. By relaxing and tightening the skin, as well as toning and firming the muscles, the skin will begin to rejuvenate and begin boosting levels of collagen production. They also help improve facial contour and reduce fluid retention and puffiness, revealing a much tighter complexion.
Prevention. As we age, our skin collagen and elastin production starts to slow down, and muscles start to weaken, leading to loose skin, droopy jowls, and an overall tired appearance. Correcting these problems earlier rather than later is key to preventing more invasive procedures later on. Facial sculpting devices help maintain tightness, tone, blood flow, and firmness in the facial skin and muscles, maintaining youth and glow!
Purelift Face - An Advanced Facial Sculpting Tool
PureLift Pro is the premier non-invasive facial elevation and sculpting tool on the market. Using their patented Triple-Wave Technology, this device deeply activates and elevates your facial muscles, giving you the appearance of a fuller, more youthful face in just 10 minutes. Its groundbreaking technology stimulates collagen production, tightening the skin and reducing the appearance of lines and wrinkles. 
PureLift Face's patented Triple-Wave Technology works by delivering three waves into the skin and muscle layers: the first wave (low frequency) works as an anesthetic, the second wave (mid-frequency) penetrates deeper into the dermis, and the third wave (high frequency) penetrates the deepest layers of the facial muscles.
NuFace Trinity is a pro-level, award-winning Microcurrent facial toning device that tones, lifts, and contours the facial muscles while also reducing the appearance of fine lines and wrinkles for a 5-minute facelift. Microcurrent is low-level, electrical current that sends gentle waves through skin down to the facial muscles. It mimics and gently re-energizes the body's own natural current helping to tone, lift, and contour, tightening the skin and boosting the skin's own healing mechanisms.
NuFace stimulates the larger surface areas of your face and neck with microcurrent to help improve facial contour, tone, and the look of fine lines and wrinkles. A simple routine of 5 minutes a day, 5 days a week provides instant and cumulative results. 
Features
Premier FDA cleared non-invasive facial elevation tool
Elevates and sculpts your facial muscles
Gives the immediate appearance of a full younger face
Patented Triple-Wave Technology
PureLift uses a highly conductive gel to maximize facial pulses
Backed with 12 months warranty
Features
FDA-Cleared, Aesthetician-Approved device
It helps improve facial contour, tone, & wrinkles
Eye and Wrinkle Reducer Attachments
Effectively reduces the appearance of wrinkles around the mouth, brows, and eyes
Hydrating Leave-On Gel Activator locks in moisture during treatments
Interchangeable attachment capability for precision treatment and light therapy
PureLift Benefits
Pure Lift Face lifts and sculpts the face with a series of movements designed for the neck, cheeks, brow, and forehead.
Lifts Your Skin
The facial muscles are activated, lifted, and strengthened using high- and low-frequency impulses. The skin becomes more supple as collagen fibers are better organized and more uniformly distributed. It creates more collagen production and reduces wrinkle formation.
Give a subtle glow
Circulation is increased, bringing nutrients, oxygen, and nutrients to the skin, resulting in a healthy glow.
Stimulates collagen production
Additionally, the stimulation increases collagen production, resulting in younger-looking skin. The volume-boosting conductive serum is formulated with proteins and peptides to enhance collagen production for a more youthful appearance.
NuFace Benefits
Improved Facial Tone and Condition
By sending electrical currents through the layers of facial skin, the NuFace Trinity greatly improves facial contour, tone, and reduces acne breakouts and redness. 
Customizable For Your Face
The Trinity comes with several attachments available for purchase: The Eye and Lip Attachment, with two round nodes which can be easily used for the eye and lip contour area to combat fine lines and wrinkles. There is also a Red Light Therapy Attachment for more in-depth wrinkle reduction  
Complimentary Skincare With Actives
NuFace also sells a line of highly effective skincare made specifically for use with its toning devices. The combo of both are unbeatable, the electrical currents from the Trinity allow the active ingredients from the skincare to penetrate more deeply into the skin layer, thus working much more effectively to balance and nourish your skin.  
Key Takeaways
Both Purelift Face and NuFace Trinity contain advanced technology perfect for combating aging, fine lines, sagging skin, drooping muscles, and a dull complexion. However, we feel that Purelift Face is better for sculpting and defining your face and stimulating the muscles underneath the skin, whereas NuFace is more focused and targeted on loose skin, fine lines and wrinkles, and is easier to use with skincare serums and actives. Whatever you choose, you can't go wrong, and these devices may even save you more money when you go for your esthetician visit, as they maintain your tone and glow with long-term usage!