Alastin Makes The Perfect Age Defense Kit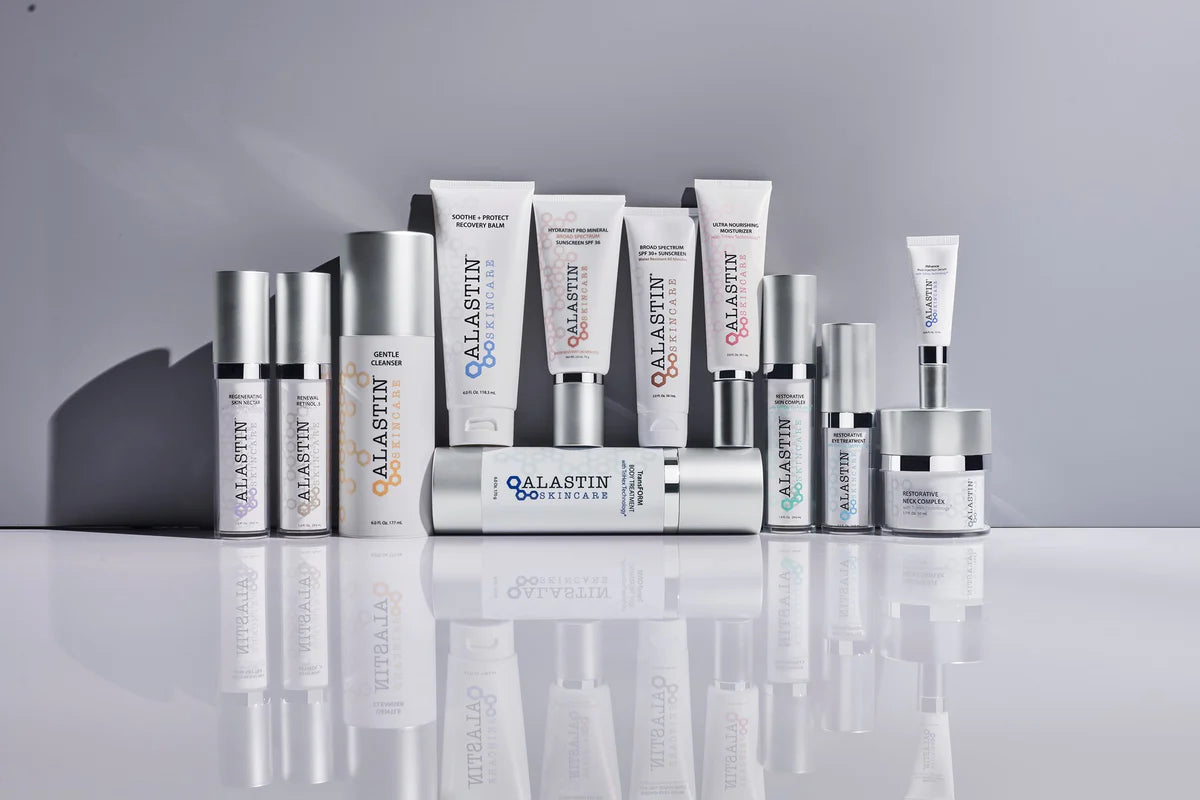 We all know the necessity of a daily skincare regimen, but sticking to one can be overwhelming and result in decision fatigue. With so many products on the market promising everything, it can be difficult to navigate and choose the right products and steps for our highly individual skin concerns, and to address skin aging in a healthy way.
Our beauty team has long been obsessed with finding this ideal skincare regimen, and sticking to a brand whose products are effective, deliver clear results, and work well together to rejuvenate the skin. That's why we recommend Alastin Skincare! This award-winning line is the fastest-growing physician dispensed skincare brand, with innovative, scientifically proven and clinically tested products. 
Alastin's Daily Beauty Regimen Bundle is the perfect introduction to an ideal skincare regimen, with four bestselling, easy-to-use products that work marvelously together to rebuild skin's damaged collagen & elastin. Here's why we feel this bundle is a must-add to your skincare routine!
What Does Alastin Daily Beauty Regimen Bundle Contain?
Gentle Cleanser
Restorative Skin Complex With TriHex Technology
Ultra Nourishing Moisturiser
Hydratint Pro Mineral Sunscreen SPF 36
Step 1: Gentle Cleanser
Alastin's Gentle Cleanser is a relaxing and soothing cleanser. It contains nutrients that soften and nourish the skin, such as Oat Beta Glucan and Oat Kernel Extract. One pump is sufficient to wash the face, and it is mild enough to be used both day and night. It has a pleasant self-foaming effect and is incredibly beneficial on days when your skin is inflamed or irritated.
Step 2: Restorative Skin Complex With TriHex Technology
Collagen and elastin are the skin's equivalent of water. Alastin Restorative Skin Complex is a serum concentration that promotes the formation of new elastin and collagen. It includes antioxidants, which aid to repair, regenerate, and heal the damage caused by free radicals in the environment, as well as protect against additional solar damage. It boosts collagen and elastin levels for a youthful appearance while also helping to firm skin in the long run. The cream is rich but fast absorbing—not heavy or oily, but smooth and fragrance-free for sensitive types. 
Step 3: Ultra Nourishing Moisturiser
The next step is Alastin's Ultra Nourishing Moisturiser, which is a deeply hydrating yet oil-free and fragrance-free product. This moisturiser absorbs swiftly and easily into the skin and has a non-greasy feel. The moisturising base softens and nourishes the skin. It also increases elastin and collagen production. This Alastin Moisturizer was also named "Best Plumping Moisturizer" in Prevention Magazine 2021. It offers intense hydration benefits while not clogging pores, so it works well for all skin types. 
Step 4: Hydratint Pro Mineral Sunscreen SPF 36
The HydraTint Pro Mineral Broad Spectrum Sunscreen comes next. This formula is high in antioxidants, which protect against pollution-related damage. This is one of the best tinted mineral sunscreens we've ever used, and may also be used as a tinted moisturizer. We love the coverage on this, which is sheer but spreads well and acts as a simple replacement for a light foundation. It contains SPF 36, making it perfect for daily use. The airless pump is a nice bonus too, ensuring bacterial growth is avoided so this product stays fresher longer.