The Story of Yon-Ka Paris: Where Nature and Science Meet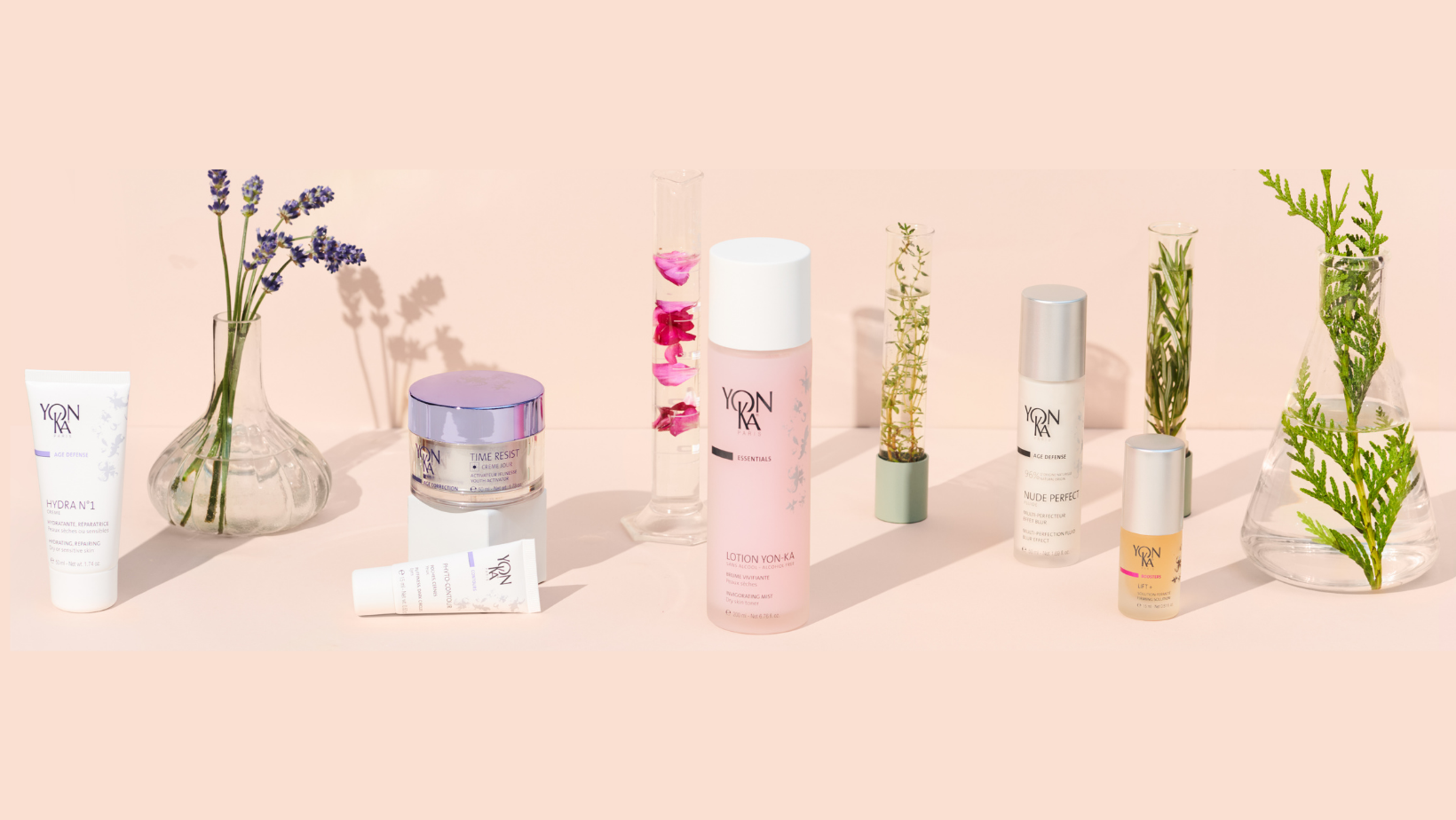 When it comes to skincare, we often seek that perfect balance between pure, natural, clean ingredients and the proven efficacy of science. This quest for the best of both worlds in skincare has led us to Yon-Ka, a luxurious French skincare brand that masterfully intertwines the healing, therapeutic properties of nature with advanced scientific formulas. With a remarkable 68 years of expertise in the beauty industry, Yon-Ka is a proud family-and woman-owned brand, offering professional-grade skincare solutions that tantalize the senses and deliver stunning, visible results.
A Journey Rooted in Nature and Science
Yon-Ka stands as a testament to the power of plants and aromatherapy. The brand's journey dates back to 1954, where the Multaler Laboratories embarked on their quest to create pure and dynamic skincare formulas, driven by their unwavering passion for the therapeutic properties of plants from all corners of the globe. It's this enduring love for nature that led to the creation of Yon-Ka's exceptional phyto-aromatic treatments. These treatments encapsulate the very essence of nature, blending it seamlessly into expertly crafted formulas.
The Quintessence of Yon-Ka
Central to Yon-Ka's product offerings is what they call "The Quintessence," an exclusive complex consisting of five synergistic essential oils. Lavender, geranium, rosemary, cypress, and thyme combine to create a dermatologically effective, multi-sensory experience that harmonizes and balances both mind and body. This unique blend not only enhances the effectiveness of Yon-Ka's skincare, but also transforms your beauty regimen into a deeply therapeutic experience.
More Than Skin Deep
At Yon-Ka, it's not just about skincare; it's about the harmonious connection between physical and mental well-being. Every Yon-Ka treatment is thoughtfully designed to invigorate the mind, alleviate stress, and foster an overall sense of well-being. Yon-Ka believes that skincare is about much more than just your skin: it's about revitalization and the rediscovery of life's simple pleasures.
An Eco-Friendly Commitment
Yon-Ka's love for nature isn't limited to their products; it extends to their commitment to eco-friendly, responsible development and production. With a deep respect for the environment and those who cultivate their precious plant-based ingredients, Yon-Ka ensures that the journey from nature to your skincare routine is one filled with love and respect.
A Worldwide Sensation
It's no surprise that Yon-Ka's unique approach to skincare has made waves globally. With over 6,000 spa partners and training centers worldwide, Yon-Ka's philosophy has resonated with beauty professionals and customers alike. People are searching for a skincare experience that encapsulates naturality, authenticity, and above all, delivers tangible results, and Yon-Ka has always been one of the pioneers of this movement.
Conclusion
Intricately weaving the beauty of nature with the precision of science, Yon-Ka's journey is a celebration of the senses, a rediscovery of well-being, and an unwavering commitment to the environment. If you're searching for a skincare experience that transcends the ordinary, Yon-Ka is here to take you on a journey that rejuvenates both your skin and your soul.
Our Favorite Yon-Ka Products:
Lotion Yon-Ka PS: Hydrating toner that naturally refreshes, soothes, and hydrates dry, sensitive skin.
Yon-Ka Lait Nettoyant: Velvety milky cleanser gentle enough for face, eyes and lips.
Yon-Ka Elixir Vital: Corrective elixir formulated to smooth wrinkles and fine lines and restore a fresh, healthy and visibly younger appearance.
Yon-Ka Serum C20 - Powerful brightening face serum infused with a potent, all-natural 20% vitamin C stabilized for maximum efficacy and tolerability.
Yon-Ka Nude Perfect Fluide - A 2-in-1 hydrating moisturizer that blurs imperfections and primes skin for make-up application.