SkinMedica vs. SkinCeuticals: Let's Compare These 2 Top Medical-Grade Brands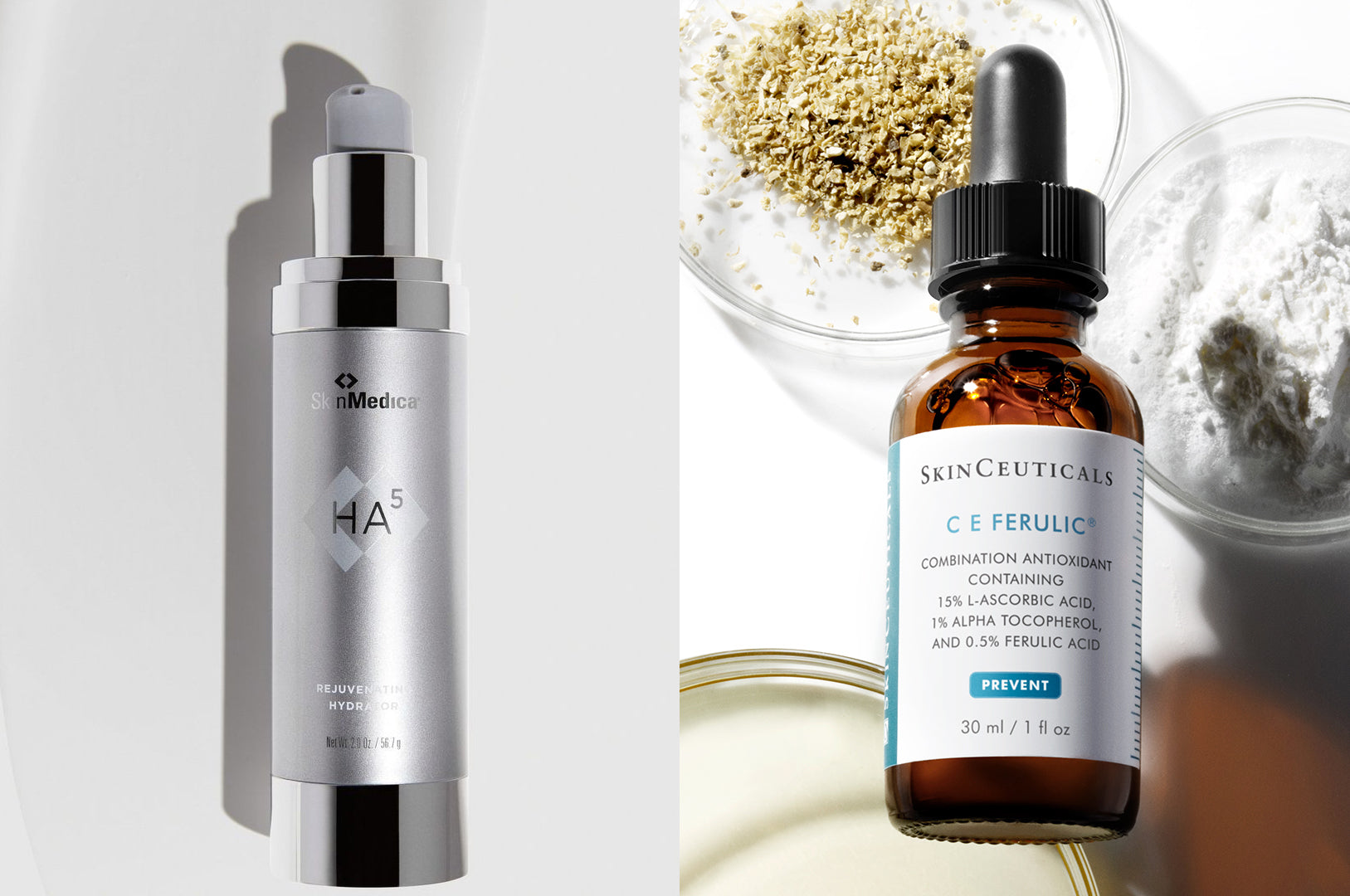 Navigating the world of medical-grade skincare can be overwhelming. With so many options, trends, and brands to choose from, the decision-making process can be more intricate than ever before. Selecting the right skincare brand involves considering various factors, including science & research, formulation, pricing, personal skin concerns, and sustainability.
In this comparison, we'll compare SkinMedica and SkinCeuticals, two of the most buzzworthy medical-grade brands in the industry. Both brands are hugely popular, boast extensive product lines, and share a commitment to enhancing skin health. Both position themselves as cosmeceutical brands, meaning they offer cosmetic products with clinically-proven skin benefits. The scientific expertise and dermatological backgrounds of these brands further underscore their dedication to innovation. To help you decide which brand fits best with your skincare goals, here's our side by side comparison.
The SkinCeuticals Story 
SkinCeuticals, founded in 1997, is on a mission to enhance skin health through scientifically-backed, advanced skincare. Founded by Dr. Sheldon Pinnell, SkinCeuticals was built upon decades of skin cancer research and breakthroughs in antioxidants. Their clinical skincare, proudly made in the USA, is trusted by dermatologists, plastic surgeons, and medi-spas for both daily use and as a complement to aesthetic procedures. The brand's approach revolves around three core pillars: Prevention, Protection, and Correction, which collectively aim to promote the healthiest skin possible and deliver exceptional anti-aging results.
The SkinMedica Story
SkinMedica has its origins in the pioneering work of dermatologist Dr. Richard Fitzpatrick, a visionary dedicated to enhancing skin rejuvenation and combating the effects of aging from within. This commitment culminated in the birth of SkinMedica in 1999, a revolutionary scientifically-driven skincare line. In the year 2000, the brand embarked on a journey to advance growth factor technology and achieved a significant milestone with the issuance of a patent for TNS® (Tissue Nutrient Solution). This marked a groundbreaking moment in the science of age defense, leading to the development of multiple award-winning products.
Comparison Chart
| | | |
| --- | --- | --- |
|   | | |
| Year Founded | 1997 | 1999 |
| Dermatologist Founder | Dr. Sheldon Pinnell | Dr. Richard Fitzpatrick |
| Patents | 10 | 18 |
| Price Range | High ($30 - $200) | High ($40 - $300) |
| Medical-Grade | Yes | Yes |
| Cruelty Free | No | Yes |
| Best Selling Products | | |
| Offers a Complete Routine | Yes | Yes |
| Products for Acne | Yes | No |
| Products for Brightening | Yes | Yes |
| Products for Anti-Aging | Yes | Yes |
| Products for Oil Control | Yes | No |
| Products for Dryness | Yes | Yes |
| Retinol Products | Yes – 0.3, 0.5, and 1 | Yes – 0.25, 0.5, and 1 |
| Post-Procedure Use |  Yes |  Yes |
Which is better for acne, SkinMedica or SkinCeuticals? 
When it comes to battling acne, SkinCeuticals stands out as the preferred choice. This brand offers a comprehensive acne and oil control regimen featuring targeted ingredients specially designed for adult acne-prone skin. Among these ingredients are salicylic acid, glycolic acid, LHA, Vitamin C (l-ascorbic acid), and Ferulic Acid, which effectively combat acne and its related concerns. The SkinCeuticals product lineup for acne includes notable options like the Glycolic Renewal Cleanser, LHA Toner, and the Clarifying Clay Masque. Moreover, they boast a best-selling serum, Blemish + Age Defense, which uniquely addresses both adult acne and the early signs of aging simultaneously. For those seeking an effective solution to acne, SkinCeuticals offers a more robust and specialized range of products.
Which is better for brightening, SkinMedica or SkinCeuticals?
For brightening and addressing skin discoloration concerns, both SkinMedica and SkinCeuticals offer excellent options. SkinMedica's Even & Correct line is a standout, featuring the Brightening Treatment Pads, an Advanced Brightening Treatment Serum, and a targeted Dark Spot Cream. All these products are enriched with natural botanicals, tranexamic acid and niacinamide to gently break up pigmentation, and free from harsh lighteners like hydroquinone.
SkinCeuticals, on the other hand, also provides a wide array of brightening products, including the popular Discoloration Defense serum, CE Ferulic serum, and the Phyto A+ Brightening Treatment. These powerful products feature potent actives like tranexamic acid, Vitamin C, and azelaic acid to effectively address dark spots and rejuvenate dull skin. Whether you choose SkinMedica or SkinCeuticals, both brands offer exceptional brightening solutions to enhance your complexion and combat skin discoloration.
Which is better for anti-aging, SkinMedica or SkinCeuticals?
When it comes to addressing aging skin, both SkinMedica and SkinCeuticals provide impressive options. SkinMedica stands out with its renowned TNS Advanced+ Serum, an award-winning product that offers next-generation skin rejuvenation. This advanced formula effectively reduces the appearance of coarse wrinkles, fine lines, and enhances skin tone and texture. Notably, it's the only growth factor product known to combat sagging skin, with visible results in as little as two weeks. SkinMedica's Dermal Repair Cream is another highlight, delivering deep moisturization and improving skin smoothness to restore your skin's natural beauty.
SkinCeuticals boasts an extensive, award-winning range as well. Their A.G.E. Interruptor Advanced Cream is a game-changer, reversing visible signs of aging affected by glycation and collagen decline, effectively addressing fine lines and deep wrinkles. Additionally, SkinCeuticals offers the A.G.E. Eye Complex, a next-generation eye area solution targeting crow's feet, puffiness, and dark circles linked to glycation and collagen decline – two key factors in the natural aging process. Whether you choose SkinMedica or SkinCeuticals, you're in good hands when it comes to combatting the effects of aging on your skin.

The Takeaway
Comparing SkinMedica and SkinCeuticals reveals two exceptional skincare brands, and you can't go wrong with either choice. These dermatologist-founded companies prioritize rigorous research and scientific innovation, boasting multiple patents in skincare technology. Both brands offer a diverse selection of products addressing various common skin concerns. They share key attributes such as potent active ingredients, fragrance and dye-free formulations suitable for all skin types.
SkinCeuticals boasts a more extensive product range that specializes in addressing many specific skin issues, particularly in the acne and oil control category. Notable award-winning bestsellers like CE Ferulic and Triple Lipid Restore 2:4:2 have earned legendary cult beauty status, and work brilliantly on a majority of skin types. Whatever your particular skin concern is, rest assured there is an advanced SkinCeuticals product available.
SkinMedica, on the other hand, stands out for the high quality of its anti-aging, hydrating, and brightening formulas, including the groundbreaking TNS+ Advanced Serum for age defense, HA5 Rejuvenating Hydrator, and the Even & Correct Line. They don't have many products targeted specifically for acne or oily skin, so if that's your main concern, SkinCeuticals has more options for you.
While both brands fall within a similar price range, SkinCeuticals offers some products at a more wallet-friendly price point. In conclusion, it ultimately depends on your individual skincare needs and priorities when deciding between these two outstanding brands.
Our Top Picks From SkinMedica & SkinCeuticals:
SkinCeuticals C E Ferulic - A patented daytime Vitamin C serum that improves the appearance of fine lines and wrinkles, loss of firmness, and brightens skin's complexion.
SkinMedica HA5 Rejuvenating Hydrator - This hydrating serum provides immediate smoothing in the appearance of fine lines and wrinkles, resulting in radiant, rejuvenated tone and texture.
SkinCeuticals Triple Lipid Restore - A potent anti-aging cream to refill cellular lipids and nourish dry skin. Greatly helps visible appearance of skin smoothness, laxity, pores, and overall radiance.
SkinMedica TNS Advanced+ Serum - This next-generation, skin rejuvenating formula improves the appearance of coarse wrinkles, fine lines, skin tone, and texture. It's the only growth factor product proven to address sagging skin.
SkinCeuticals Sheer Physical UV Defense - A sheer, weightless 100% mineral sunscreen that provides broad spectrum protection.
SkinMedica Retinol Complex - SkinMedica's Age Defense Retinol Complex enhances the skin's texture to promote a brighter, more youthful complexion. Renews skin and diminishes the appearance of fine lines.