Skincare 101: How Much Product Do I Need?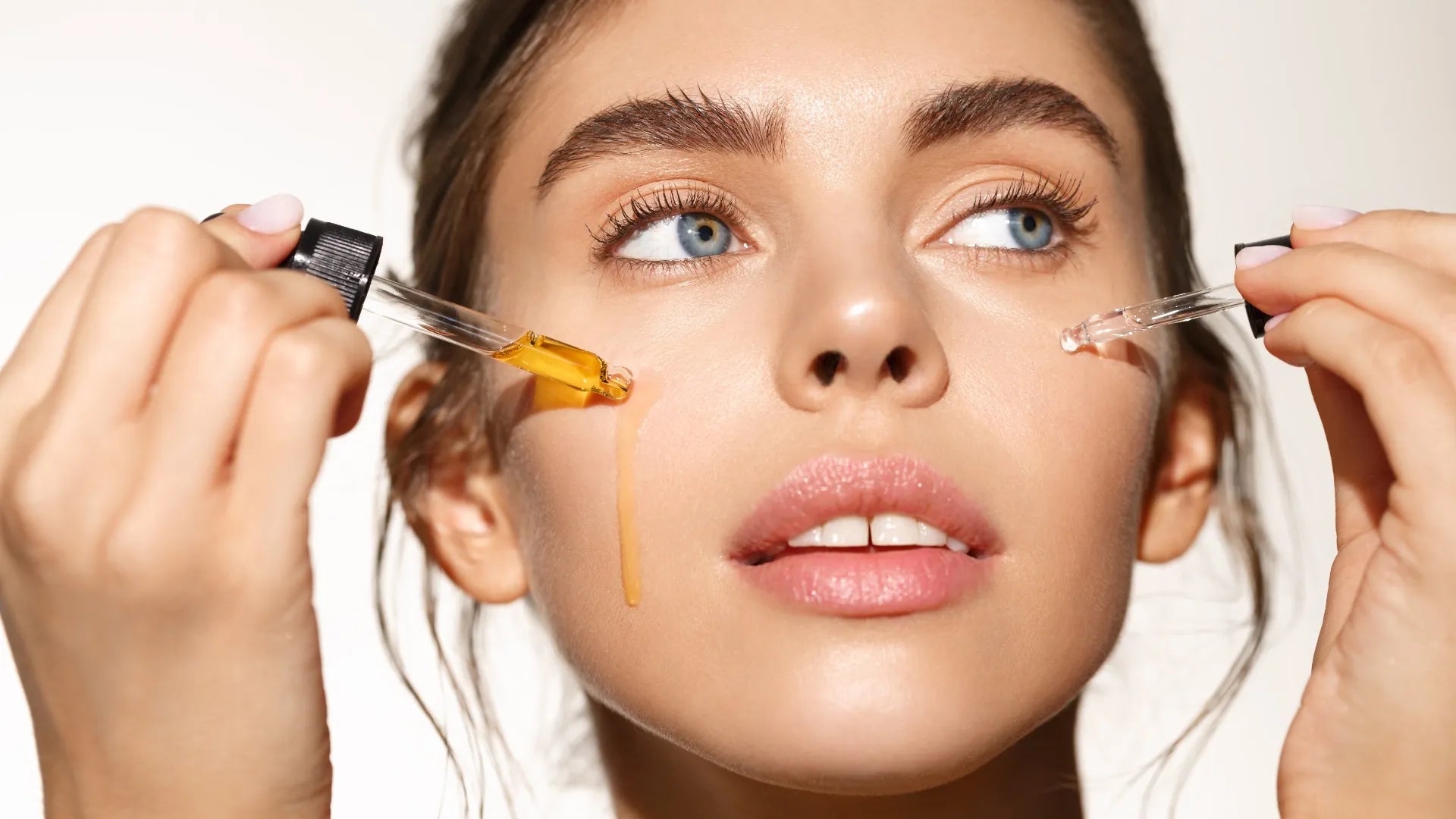 We all want to make sure our skin looks as healthy and vibrant as possible. But when it comes to skincare products, it can be difficult to know just how much is too much. Should you use a cleanser, toner, serum, eye cream, moisturizer, and sunscreen? And if so, in what order should you apply them? Luckily, we have the answers! Keep reading for a 101 crash course on the correct amount of skincare products for your routine, and the right order to use them.
Cleanser

 
First things first: start with a cleanser. Your cleanser should be tailored to your skin type—whether that's oily, dry or combination skin. Dry and sensitive skin types work well with creamy cleansers, whereas oily or combination skin types respond better to foam or gel formulas. For cleansers, 1-2 pumps is all you usually need. Use lukewarm water and massage the cleanser into your face in circular motions before rinsing off with cool water. If you're wearing makeup, use a double-cleanse method where you start with an oil-based cleanser before using your regular cleanser. Doing this will ensure that all traces of makeup are removed from your skin. 
Alastin Gentle Cleanser is a gentle, self-foaming cleanser specifically designed to remove impurities without drying or irritating the skin.
Toner

 
After cleansing, apply a toner to help remove any remaining impurities from your skin. Toners can also help rebalance pH levels after cleansing and reduce inflammation caused by environmental factors such as pollution or harsh weather conditions. Again, find one that fits your particular skin type and gently pat it onto your face using cotton pads or a cotton ball instead of rubbing it in circles like you would with a cleanser. One to two pumps should be sufficient to cover your entire face. 
Elta MD Skin Recovery Toner is gentle essence toner that soothes, hydrates and detoxifies skin while maintaining a healthy pH balance.
Serum

 
Next up is serum - a must-have in any skincare regimen! Serums are packed with active ingredients that are designed to target specific concerns like wrinkles or dark spots. One pump, or a few drops is usually enough when it comes to serum. Warm up your serum in between your hands before applying it evenly all over your face, avoiding the eye area as always. If you find that your skin is thirsty for more moisture then feel free to use an additional pump or half dropperful! 
Peter Thomas Roth FirmX Collagen Serum contains 7 forms of Collagen and collagen-supporting ingredients help skin appear firmer and smoother.
Eye Cream
Eye creams help reduce puffiness and dark circles around the eyes by providing extra hydration in those areas. To apply eye cream, use a tiny dab on each ring finger and dot around the orbital bone—not directly onto the eyes themselves! One small pump should do the trick—you don't want to overload this delicate area with too much product at once. Make sure to wait a bit after gently patting eye cream to allow it to absorb into the skin before moving on to the next step in your routine.
Elemis Peptide4 Eye Recovery Cream is a hydrating eye cream that targets tired and overworked eyes to improve the appearance of dark circles, puffiness and fine lines.
Moisturizer
Moisturizers help keep your skin hydrated, and believe it or not, all skin types need moisture - even the oiliest. Find a moisturizer that works best for your individual skin type; once you have chosen one that suits you, then apply it liberally but not too heavily all over your face - about a nickel-sized dollop should be sufficient. The key here is to wait until all your other products have been totally absorbed before applying moisturizer to your face, so you'll lock in hydration and won't dilute the moisturizer.
RéVive Sensitif Renewal Cream is a moisturizing SPF 30 day cream that renews, soothes, and protects, even the most sensitive skin, throughout the day.
Sunscreen
Last but not least is sunscreen! You know the drill, all year round, sunscreens protect against damaging UV rays from the sun (which can cause premature aging). Make sure you opt for one with SPF 30 or higher for maximum protection against sun damage. Apply liberally (that means one teaspoon!) 15 minutes before going outside - even if you think you won't be out long—it's important to wear sunscreen every single day! Reapply every two hours throughout the day if necessary.  
Isdin Eryfotona Actinica SPF 50+ is a fast-absorbing, ultralight emulsion providing all-mineral broad spectrum sun protection.
That's it—you now know how much skincare is too much when it comes to building an effective routine! Start with a gentle cleanser suited for your particular skin type, then move onto toners followed by serums and eye creams before finishing up with moisturizer and sunscreen every day for maximum protection against environmental factors like pollution or UV rays from the sun. With this knowledge under your belt, you'll be able to confidently create a custom skincare regime tailored specifically to suit YOUR needs!