The Dr. Arrivo Zeus II Beauty Device: Med-Spa Technology for At-Home Skincare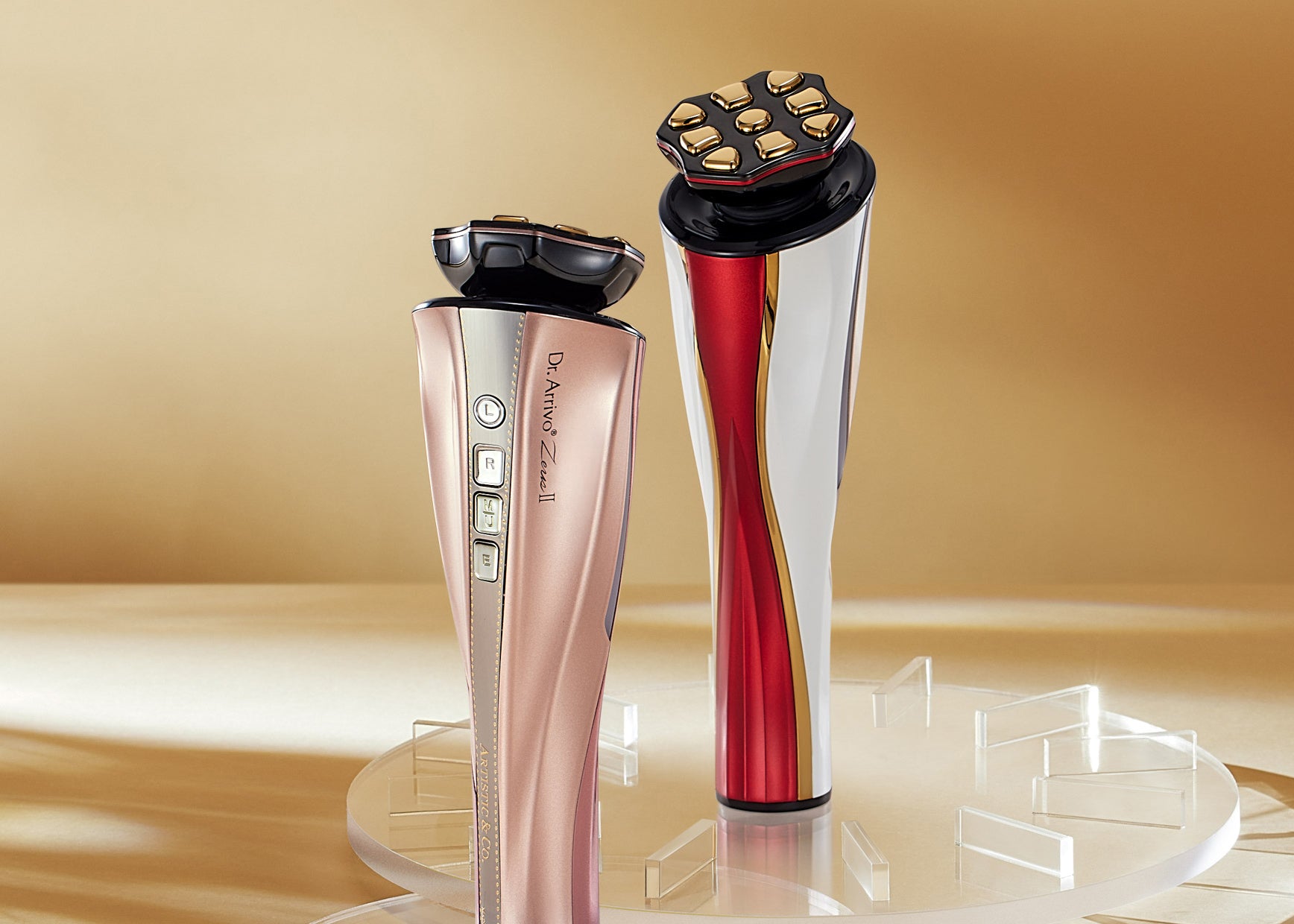 In the ever-evolving world of at-home beauty devices, from facial muscle stimulators like microcurrent to LED therapy, there's a groundbreaking contender that has taken the beauty industry by storm – the Dr. Arrivo Zeus II. This Japanese marvel redefines the concept of at-home skincare, merging 5 cutting-edge technologies into one powerhouse treatment. The best part? It's astonishingly effective, requiring just a once-to-three times a week commitment. While the $1500 price tag might initially raise an eyebrow, consider this: when you add up the cost and clutter of multiple beauty devices filling your bathroom drawer, each specializing in just one or two of these modalities, the investment starts to make sense. Moreover, it's a budget-friendly alternative compared to regular in-office treatments, which can run thousands of dollars each visit. Say hello to the future of at-home skincare!
About The Company 
In 2009, the Zeus II's parent company, Artistic & Co, embarked on a mission that would reshape the beauty industry. Their objective was to craft a revolutionary beauty device using the same technology that could deliver results you'd typically find in a high-end med spa, but from the comfort of your home. To achieve this, they collaborated with over 100 medical experts to design a device that would ultimately become a game-changer in the world of skincare. 
Five Types of Technology In One Device
The Dr. Arrivo Zeus II boasts an impressive array of five distinct beauty technologies, each designed to elevate your skincare routine:
Mid-Frequency Interval Pulse (MFIP): Combining the power of a facial muscle stimulator (EMS), interval pulse, and radiofrequency, MFIP is the gold standard for toning and lifting your skin. Because it's so intense, it's recommended for once-a-week use to deliver remarkable results.
Electric Muscle Stimulation (EMS): If you've dabbled in microcurrent devices like NuFace, you'll recognize the magic of EMS. Small, gentle currents engage your facial muscles, giving them an invigorating workout that tightens and combats sagging.
Blue, Red, & Green LED Light: The Zeus II harnesses the prowess of three LED lights (light-emitting diodes) to target a spectrum of skin concerns. While you might not feel anything during the treatment, these powerful LEDs are hard at work. Blue zeroes in on acne and pore size, Red enhances blood flow while minimizing fine lines, and Green fades pigmentation and age spots for a more even skin tone. Feel free to choose one color at a time, or use all three simultaneously for maximum results!
Radio Frequency (RF): Elevating the game, the Zeus II employs the highest radio frequency waves suitable for at-home use. Its mission? To send gentle heat to the dermis layer of your skin, to rebuild collagen fibers and tighten your skin.
Ultra Pulse (UP): Say hello to a painless electrical pulse that's all about enhancing serum penetration. This clever technology ensures your skincare products dive deep into the skin, amplifying their efficacy and driving the nutrients deep into layers of the skin.
The Zeus II: Streamlined & Luxurious Design
What you'll notice first when you use the Dr. Arrivo Zeus II is the movable treatment head - especially ideal for a facial muscle stimulator. Unlike other devices on the market which you have to constantly maneuver to be in full in contact with your skin (otherwise the treatment won't work) the Zeus II's head boasts a versatile, multidirectional movement that effortlessly adapts to every contour of your face. Its flexibility, combined with the device's generously sized surface area featuring nine strategically positioned electrodes, ensures that no facial area goes untreated. 
What also takes this technology to the next level is the choice of materials. The device's electrodes are coated in luxurious 24K gold, offering a superior level of electrical conductivity. This helps to conduct the current deep into the layers of the skin, ensuring that the technology is really going to work at the levels it needs for you to truly see powerful, visible anti-aging results. Gold is also anti-inflammatory, anti-microbial, and is healing to the skin. When the Zeus II is paired with the Artistic & Co Serum – also infused with delicate gold flakes – the double magic of gold on gold will truly transform your skin and enhance your treatment results!
How Long Until I See Results?
With the Dr. Arrivo Zeus II, you will see results immediately in the first week after you begin treatment, but it's really with consistent long-term use that you'll really start to notice major improvements. Many skincare professionals state that you will start to notice the transformation in your skin within 4-6 weeks with consistent use. What is defined as consistent use? At the lower treatment settings, the recommended use is 3 times a week. At the highest treatment settings, once a week is enough for powerful results.
Can I Customize My At-Home Treatments?
Yes! Because this device is so versatile, you can customize your settings and routine based on your at-home treatment goals! Here are a few popular routines you can incorporate, but the beauty of this device is that it can be custom-tailored to whatever your skin needs day-to-day.
Once-A-Week Anti-Aging Treatment: Use the Mid-Frequency Interval Pulse (MFIP) function weekly. It combines three powerful technologies: electrical muscle stimulation, interval pulse, and radiofrequency – to tone, lift, and tighten your skin. Because this function is so powerful, using it once a week is all you need to see major improvements in the tone and texture of your skin!
Before A Big Event: Use the Elecro-Muscle Stimulation (EMS) function to immediately snatch your face for a visible tightening effect that lasts 24 hours! Only 24 hours, you say? Not to worry: with consistent use of an EMS facial muscle stimulator, your muscle fibers will strengthen and tighten over time, and you will cumulative results with serious staying power.
Calm Acne & Breakouts: Use the Blue LED Light function. Blue LED light is known for its anti-bacterial treatments is beneficial because it has anti-inflammatory properties and can reduce redness and inflammation in the skin. This makes it an effective treatment for acne and other inflammatory skin conditions.
Shop Artistic & Co Dr. Arrivo Devices & Serums
Artistic & Co Dr. Arrivo Zeus II - This revolutionary beauty device harnesses a selection of patented anti-aging technologies to deliver incredible results. 
Artistic & Co PE Massage Gel - This conductive gel is luxe, water-soluble, and 90% serum-based. Perfect for using with microcurrent and other skincare devices.
Artistic & Co PE Golden Beauty Serum - An enriched beauty serum for firming skin to use with skincare devices. Water-based, ideal with microcurrent devices or alone.