How ALASTIN Cracked The Sensitive-Skin Code Without Compromising Results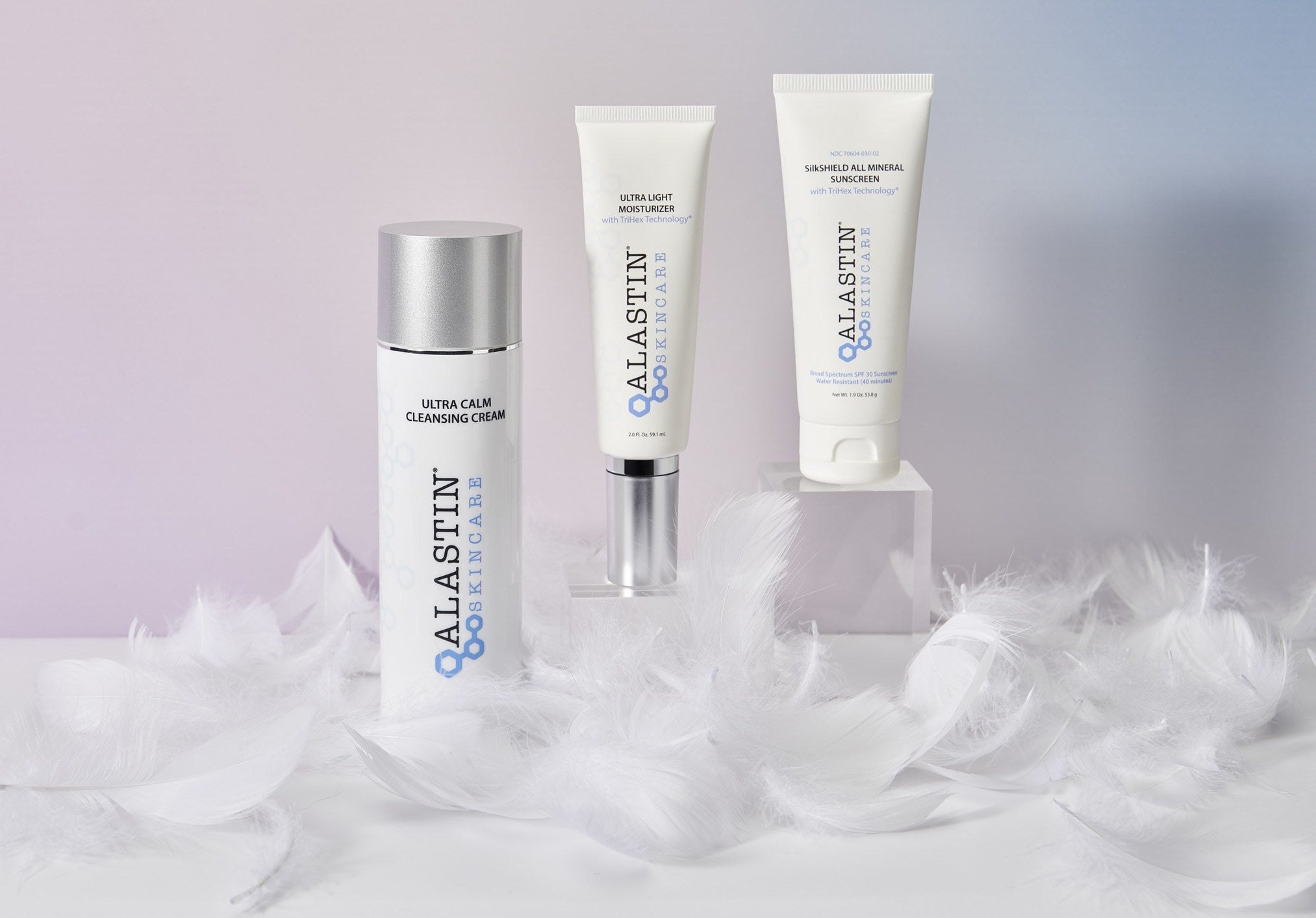 Sensitive skin is easy to spot: burning, redness, swelling, and itching are some clear visible reactions. But despite how common this condition is (up to 60-70% of women have reported a sensitive skin reaction), treating patients with reactive skin is still a tough challenge for dermatologists. Many commonly used skincare products and ingredients aggravate sensitive skin instead of calming it, and sufferers can become frustrated after trying different products that seem to just make the sensitivity worse.
This issue motivated ALASTIN Skincare's Chief Medical Officer Dr. Alan Widgerow to create an additional product line within their Daily Restorative Skincare portfolio, specially formulated for sensitive and reactive skin, as well as skin compromised by in-office procedures such as microneedling, chemical peels, and lasers. "According to recent guidelines, the range for sensitive skincare should include a gentle cleanser, moisture-inducing humectants, barrier lipids, and sun protection. That is exactly what this range offers."
ALASTIN's new Sensitive Skin Line, over two years in the making, has been tested in clinical settings under the supervision of top dermatologists. All products were tested for irritation, allergy response, and sensitivity, and all are certified to be non-comedogenic, meaning they won't block pores.
Patients reported significant benefits such as deep lasting hydration, and noted that the products felt gentle on their skin during usage. 
Ultra Calm Cleansing Cream
This gentle yet highly effective cleanser removes dirt and oil without causing a reaction. It utilizes oat protein extract to calm reactive skin, while replenishing the skin barrier with triglycerides and linoleic acid. While some people have reported that cream cleansers aren't very good at removing makeup, the Ultra Calm Cleansing Cream has proven to be highly effective at removal without stripping skin, while replenishing the lipids and ceramides that are key to re-balancing sensitive skin after washing.
Ultra Light Moisturizer with TriHex Technology 
For those with sensitive skin, moisturizer can be tricky: finding a cream or lotion that hydrates without being too heavy can be challenging. ALASTIN's Ultra Light Moisturizer with TriHex Technology contains silver mushroom extract (reported to be even more powerful and hydrating than Hyaluronic Acid), while D-Panthenol and Ginger Root Extract help to soothe and calm inflammation. It also contains ALASTIN's patented Tri-Hex Technology, which combats signs of aging by boosting the skin's natural ability to produce new, healthy collagen and elastin.
SilkShield All Mineral Sunscreen
Sun protection is key for everyone, but especially important for sensitive skin types, who tend to react to chemical sunscreens. That's why ALASTIN developed SilkShield All Mineral Sunscreen, a 100 percent mineral-based sunscreen with a silky-smooth, lightweight texture. This moisturizing formula uses triglycerides and hyaluronic acid boosters to help support the skin's barrier function and help hydrate skin.