5 Common Skincare Mistakes that Could Be Causing Your Acne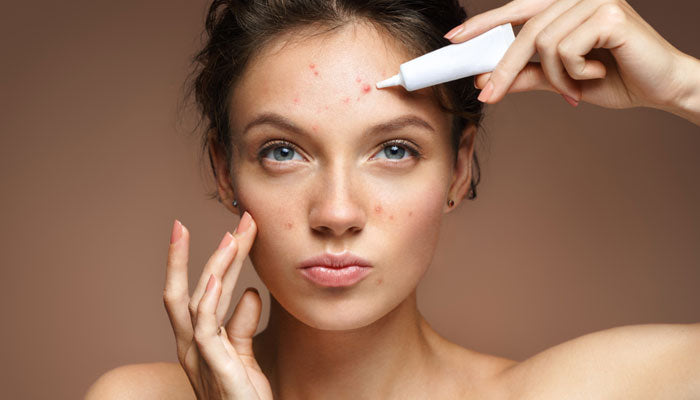 Contrary to what you may believe, acne isn't just a teenage problem. In fact, over 40 million adults in the US suffer from acne and many of them don't even realize why. That's why it's important to understand the root cause of acne and what skincare mistakes you could be making that are contributing to your breakouts. Here are five common skincare mistakes that could be causing your acne.
1. Not Washing Your Face Properly
Not washing your face properly can cause dirt, bacteria and oil to build up on your skin, leading to breakouts and other skin issues such as blackheads and whiteheads. Make sure you use lukewarm water when washing your face and gently massage cleanser onto your skin for at least 30 seconds before rinsing off with cold water to close pores. If you are wearing any kind of foundation or makeup, it's necessary to double cleanse: the first cleanse removes makeup, dirt, and oils from your face, and the second will address your skin concerns such as oil control or dryness.
2. Over Cleansing & Exfoliating
While cleansing is an important part of any skincare routine, it is possible to overdo it. Over-cleansing strips your skin of its natural oils, which can leave it feeling dry, tight, and irritated—all factors that can contribute to acne breakouts. Try limiting yourself to cleansing twice a day—once in the morning and once at night—and avoid harsh exfoliants as they can further irritate already inflamed skin. Using cleansers without harsh sulfates, parabens, artificial fragrance or colors will go a long way in reducing reactions. Also, only exfoliate 2-3 times a week, not every day. Over-exfoliation can damage the acid mantle of the skin, leaving it more prone for acne-causing bacteria to enter.
3. Using the Wrong Moisturizer
It's important to keep your skin hydrated but using the wrong moisturizer can make acne worse by clogging pores or disrupting pH levels. Look for an oil-free moisturizer specifically formulated for oily or acne-prone skin or opt for a lightweight serum instead as these are less likely to clog pores than heavier creams. Water-based products with a lighter gel texture deliver weightless moisture and are much less likely to aggravate breakouts. Avoid comedogenic ingredients like coconut oil, mineral oil or petrolatum, and waxes. Oils, balms, or heavy creams are also not ideal – they can increase oil production, leading to another breakout cycle.  
4. Applying Too Many Skincare Products
We get it; there are so many amazing products out there! But layering too many products on top of each other without giving any time for them to absorb into your skin will not only increase the likelihood of a breakout but also make it more difficult for active ingredients like Retinol or Vitamin C to work their magic on improving dullness, wrinkles, or other signs of aging. Start simple with just 4-5 essential products (cleanser, toner, serum, moisturizer) then slowly add other treatments like masks, spot treatments etc as needed—your skin will thank you later! 
5. Combining Too Many Active Ingredients in Your Products
Active ingredients like Retinol, Glycolic Acid etc are powerhouse ingredients that can really help improve acne scars and prevent future breakouts if used correctly—but they can also be extremely irritating if used incorrectly! When incorporating active ingredients into your routine, start slowly with one product at a time until you know how well each one works with your specific skin type before adding another one into the mix — this will ensure you slowly build up tolerance without risking any adverse effects on your complexion. Trust us, your derm will thank you later! 
Our Top Products for Acne-Prone Skin:
Peter Thomas Roth Goodbye Acne Complete Acne Treatment Gel - This potent and unique formula clears, prevents, treats and calms for complete results. 2% Salicylic Acid clears active acne and helps prevent future breakouts, while 1% Time-Released Microencapsulated Retinol and Vitamin C help treat the look of post-acne marks and Aloe Vera helps calm the look of acne irritation.
Perricone MD Acne Relief Prebiotic Acne Therapy 90-Day Regimen - A simple, two-step skincare system that works with your skin's natural microbiome to target and safely yet effectively treat three causes of acne: excess oil, acne-causing bacteria and inflammation.
Replenix BP 5% Acne Wash is an advanced, medical-grade Benzoyl Peroxide cleanser that helps to unclog pores, kill acne-causing bacteria, and prevent future blemishes from forming. Soap-free, non-drying, and non-irritating, this powerful cleanser is scientifically formulated to maintain skin's optimal pH balance while deeply soothing acne-prone skin.