Stay Handsome with Blind Barber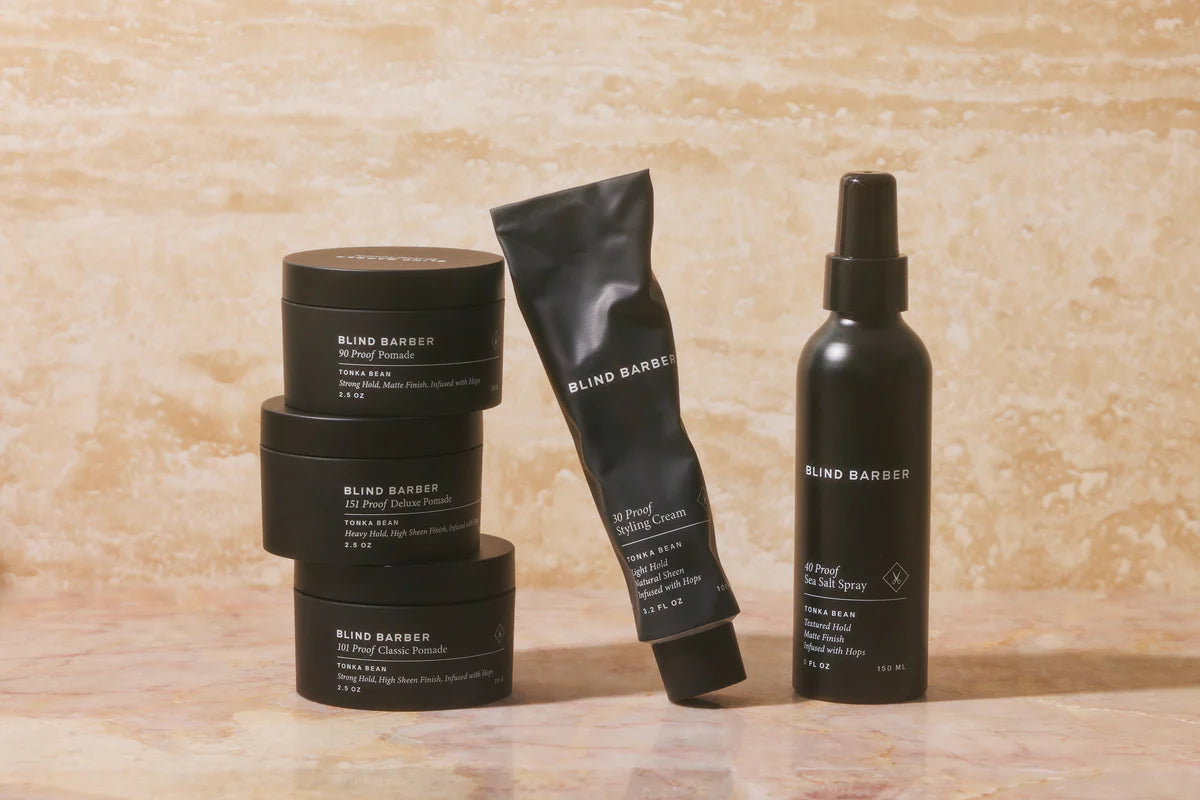 Ask any guy if he was stranded on a desert island and had to choose between skin and hair products, and I'll guarantee you almost every single one will forego skincare, but there is no way he's going without his ride-or-die pomade or hair wax. Haircare is one aspect of men's grooming that is absolutely essential to most, and it's very personal: there's no one-size-fits-all men's haircare solution.
Many of the leading men's haircare brands are formulated by major cosmetic companies, but it takes a special one-on-one touch to really understand what men truly want and need in regards to their hair. That's why Blind Barber products are so effective: they were created out of years of experience dealing with men's hair in the chair, where it all happens. 
The Blind Barber Story
Blind Barber started as a two-seat barbershop in New York's East Village in 2010. Their concept was simple, but straightforward: to offer classic cuts with a modern edge, and to create a community. People came for a haircut, remained for a drink, then kept returning. Most importantly, they felt comfortable, able to just hang out and be themselves. After 10 years, Blind Barber expanded into other cities like Los Angeles, Chicago, Philly and Miami.
Blind Barber has since launched a premium line for grooming, skin, and hair care. Products ranging from hair pomades, waxes and shampoos to facial cleansers, toners, and moisturizers are carefully formulated by in-house barbers alongside skilled chemists, using high-quality and natural ingredients that are always free of parabens, sulfates, and artificial dyes.
5 Products To Achieve Your Ideal Style
Named after the youngest MPV in the history of baseball, Blind Barber developed their Bryce Harper Edition Hair Clay, formulated with natural substances such as shea butter for light moisture, and kaolin clay to absorb excess oil. This bestselling clay doesn't weight hair down while delivering a strong, malleable hold, texture, and volume. 
This deluxe pomade is infused with hops (yes, from beer) and leaves hair with the strongest hold and most natural sheen you can achieve from a water-based pomade. The waxes provide a strong hold with flexible control, but simply rinsing under water allows for easy restyling or removal. The Tonka Bean aroma provides a sweet and woody scent finish.
30 Proof Styling Cream offers a weightless, flexible hold and also functions as a pre-styling treatment. Infused with hops, this cream provides a weightless hold and a natural sheen that gives your hair an effortless look. This multitasking product works great as your pre-style cream, your daily styling product, or even your beard tamer (for those loose ends). A must have for any daily style regimen. 
This sulfate-free Lemongrass Tea Shampoo has been formulated using a specific spirit mix to wash hair on a regular basis without drying it out. Using hops extract and juniper berries, it's formulated to also remove product build-up and debris. Lemongrass oil provides a refreshing, spa-like scent in the shower.
Blind Barber's Beard Replenishment Oil is a careful combination of essential oils designed to moisturize and soften coarse beard hairs as well as the skin underneath. This oil is lightweight and aromatic, and doesn't break skin out or clog pores. It's suitable for use whether you are clean-shaven or fully bearded. Bonus: it can also be used as a moisturizing face oil to condition dry skin, or rough patches.