Fade the Shade: Illuminate Dark Spots With SkinMedica Even & Correct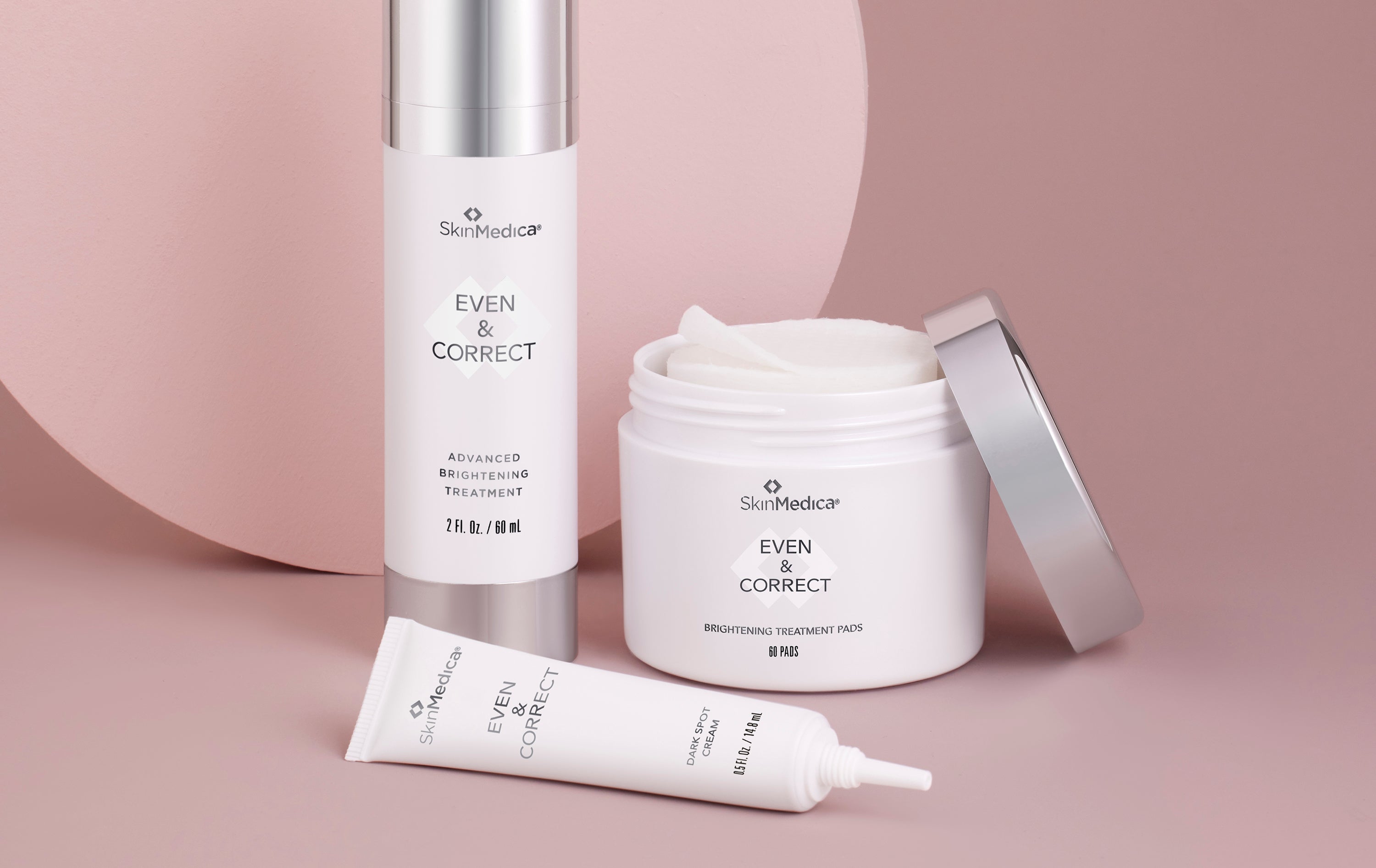 What causes hyperpigmentation, exactly? Many of us, at some point, have had to deal with pesky dark spots popping up on our face and hands – we're not talking about cute freckles, but discolored, uneven patches on our skin. This can happen even if we're careful about sun exposure! These types of skin discoloration can be very stubborn to remove, worsen over time, and can make us feel self-conscious. There are several types of hyperpigmentation, but the most common ones are melasma, sun spots, and post-inflammatory hyperpigmentation.
What are the Types of Hyperpigmentation?
Melasma - Melasma is believed to be caused by hormonal changes. It may worsen during pregnancy or menopause in women. Areas of hyperpigmentation are most commonly located on the face and stomach, but they can appear anywhere in the body.
Sun Spots - Sun spots are caused by – you guessed it – excess sun exposure over time. They generally worsen with age, so more mature skin types tend to see these develop more strongly as they get older. They're most common on areas exposed to the sun, like the hands and face. 
Post-inflammatory Hyperpigmentation - These spots are caused by injury or inflammation in the skin. A common cause is acne, and acne scarring, or mosquito bites and other small scratches can also leave behind darker marks, especially on Fitzpatrick skin type 3 or higher.
How Is Hyperpigmentation Treated?
Generally, topical prescription medication, provided by your doctor or dermatologist, can successfully treat most cases of hyperpigmentation. Most of these medications contain hydroquinone, a skin lightening agent, or topical retinoids. But these strong prescriptions sometimes come with harsh side effects. Skin rashes, facial swelling, and ochronosis (darkening of the skin) have all been reported by patients using hydroquinone, and prescription-strength retinol can sometimes cause irritation, redness, and skin flaking. Also, these topical prescriptions aren't meant to be used continually, so patients often have to cycle on and off them. They also don't prevent the hyperpigmentation from returning, so many users feel trapped in a start-stop cycle of usage.
Can Medical-Grade Skincare Treat Hyperpigmentation?
In a short answer, yes! For those looking to fade hyperpigmentation gently but effectively, as well as prevent its recurrence, SkinMedica has recently developed a powerful new line, Even & Correct, that's designed to fade hyperpigmentation, dark spots, and discoloration – without the use of hydroquinone or high-concentration retinol! This gentle but powerfully effective formula effectively lightens discolored spots without irritating the skin, and is safe enough and has been tested for use on all skin types and ethnicities.
The cornerstone to SkinMedica's Even & Correct Line is its proprietary LTN Complex, a blend of powerful botanicals, medical-grade actives, and skin-soothing ingredients combined in a potent cocktail to reduce and prevent the look of hyperpigmentation. Ultra-concentrated lotus sprout extract addresses skin discoloration, tranexamic acid is a clinically-tested brightening agent, and niacinamide reduces the appearance of skin discoloration, fine lines, and sallowness. Each unique product in the Even & Correct line is designed to target a mix of concerns, whether it's concentrated brightening, exfoliation, evening, or replenishing lost moisture. Used together, these products have been shown to reveal marvelously radiant results without the strong side effects of topical prescriptions! Best yet, their continued use works to prevent future hyperpigmentation from forming.
Can SkinMedica Even & Correct Products Be Used By People of Color?
Absolutely! Dark spots and discoloration may be more visible on people with lighter skin tones, but people with darker skin tones also frequently suffer from stubborn hyperpigmentation. SkinMedica's Even & Correct Line was rigorously tested on all Fitzpatrick Skin Types and all ethnicities to ensure its brightening effect was effective on everyone. These products are not skin lighteners and do not change the overall tone of your skin, instead they work to even out discoloration, dark patches, and dullness to reveal the radiance of each person's natural skin tone.
Best SkinMedica Products for Hyperpigmentation:
SkinMedica Even & Correct Brightening Treatment Pads: These alcohol-free pads are packed full of powerful ingredients, including Tranexamic Acid and Glycolic Acid. They work to break down melanin production (the culprit behind dark spots), and gently exfoliate the skin to reveal brighter, more even skin. The pads are perfect for on-the-go use, and best results can be seen when used twice daily.
SkinMedica Even & Correct Advanced Brightening Treatment: Designed to be used twice daily, this powerful serum targets the root of the problem – the production of excess melanin. It is infused with Niacinamide, a form of Vitamin B3, which helps minimize the appearance of dark spots, uneven skin tone, and hyperpigmentation. Soothing actives, such as Vitis Vinifera, Plankton Extract, and Phytic Acid work to improve the texture and promote an even skin tone.
SkinMedica Even & Correct Dark Spot Cream: This fast-acting spot treatment booster is packed full of brightening ingredients like 0.25% Retinol, Vitamin C, and Glycolic Acid. It is designed to be used twice daily to help reduce the appearance of stubborn dark spots and pigmentation. Visible results can be seen as early as two weeks! 
How Can Hyperpigmentation Be Prevented?
Hyperpigmentation that isn't caused by biological factors can be prevented by being very careful with sun exposure. In addition to having a skincare routine that addresses hyperpigmentation, these additional steps are key to preventing recurrence:
Using sunscreen with an SPF of at least 30 every day. Don't forget to apply on places like the neck and hands!
Mineral-based sunscreens containing zinc oxide have been shown to be effective at preventing the formation of dark spots.
Wearing hats or clothing that block sunlight when outside.
Avoiding the sun during the time of day when it's strongest (typically 10 am to 4 pm)
The Takeaway
Dark spots, hyperpigmentation, and uneven skin tone can be some of the toughest skin issues to tackle. Thankfully, with a combination of medical-grade skincare solutions like SkinMedica Even & Correct, it's possible to correct dark spots and melasma, and even prevent future recurrence, without the use of prescription-strength products. Additionally, being highly aware of sun exposure and taking precautions to protect your skin will go a long way in treating and preventing hyperpigmentation and ensure your skin remains glowing and clear!